Powerful tethered vacuum. Designed for compassionate patient care.
At Hologic, we believe that great science delivers meaningful innovation. This mindset led Hologic to become the pioneer and market leader in MRI breast biopsy with over 15 years of experience.1
Multiple Lesions are Common in MRI Breast Biopsy
The ATEC® system is designed for compassionate patient care, speed and simplicity, critical of an MRI-guided breast biopsy.
FAST.
Tissue acquisition occurs every 4.5 seconds, typically lasting less than 30 seconds total.3
With ATEC® MRI, physicians have reduced the typical procedure time to under 40 minutes, greatly improving patient comfort and optimizing costly magnet time.2
COMPASSIONATE.
Automatically delivers local anesthetic directly to the biopsy site without interruption.
MRI access needle has a blunt tip designed for thin breasted women. Minimum compression required is 16mm.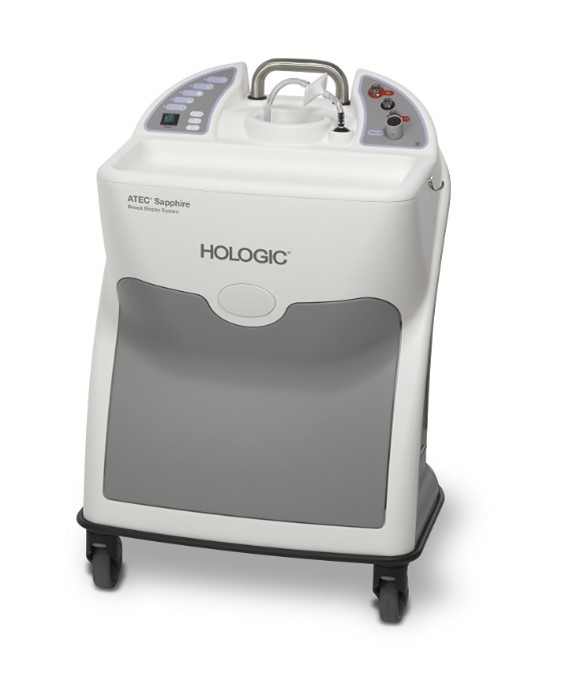 ATEC® Sapphire console for ATEC® Breast biopsy
EASY.
The ATEC® Sapphire 100 console can be used in all 3 modalities.
Setup in less than one minute, no programming required.
Fully disposable handpiece.
Closed system reduces contamination risk.
References:
1. First MRI guided breast biopsy system in 2003.
2. Schrading S, Simon B, Braun M, Wardelmann E, Schild H, Kuhl C. MRI-Guided Breast Biopsy: Influence of Choice of Vacuum Biopsy System on the Mode of Biopsy of MRI Only Suspicious Breast Lesions. AJR 2010; 194: 1650-1657.
3. 4.5 second tissue acquisition. Data on file at Hologic, Inc.
4. M. Scarth, W. Teh; Harrow/UK. MR-guided vacuum-assisted core-needle breast biopsy: Comparison of three vacuum-assisted biopsy devices. ECR Congress 2009. Scientific Paper, e-Poster: B-295.
ATEC® Introducer Localization System
Exclusive to the ATEC® MRI Biopsy System
Confirm your target prior to completing the biopsy.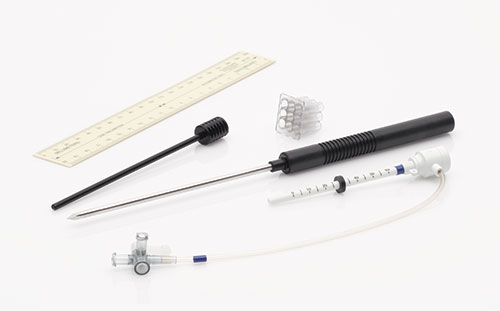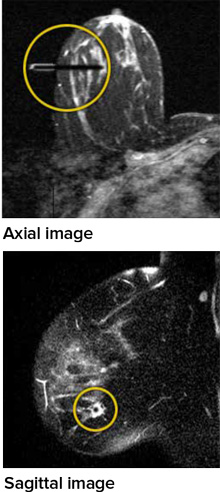 NOTE: Availability may vary by country.
Titanium TriMark® marker and stainless steel SecurMark® marker shapes are designed to provide optimal MRI artifact and feature a rigid-end-deploy device for an integrated MRI solution.
NOTE: Availability may vary by country.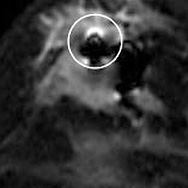 SecurMark® Biopsy Site Marker
Stainless Steel under MRI
ATEC® MRI Biopsy Needle Specifications
Standard ATEC® MRI biopsy device
Gauge: 9 gauge
Length: 14 cm
Aperture: 20 mm
Tubing: 20 ft
ATEC® MRI access biopsy device:
Gauge: 9 gauge
Length: 14 cm
Aperture: 12 mm
Tubing: 20 ft
Want Image Slider on Tab Click
no