Get informed. Get involved.

Education and early detection are our best tools in the fight against breast cancer. So in honor of breast cancer awareness month — or as we like to call it, Breast Cancer Action Month — it's time to learn how you can take control of your breast health.

What breast cancer can look and feel like: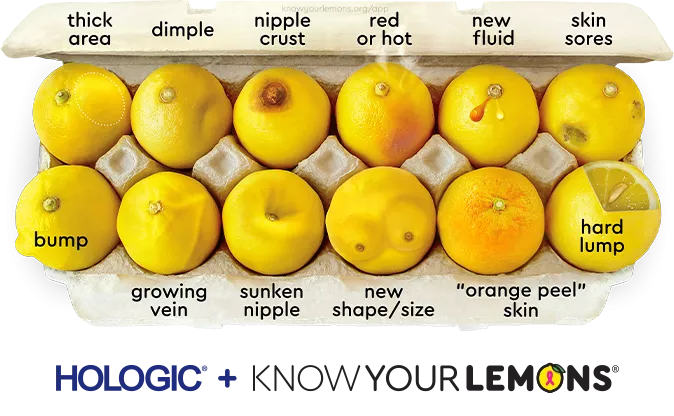 We've teamed up with Know Your Lemons to educate women around the world about the signs and symptoms of breast cancer and the importance of screenings. Together, we're doing what we can to promote early detection, and ultimately save lives.
Know what to look for. Know Your Lemons. #KnowBreastCancer.
Start with a self-exam.
It only takes 5 minutes once a month. Learn the right technique, find out what to look for and take control of your breast health.
When was your last mammogram?
If you're over 406, you should get a mammogram EVERY year. Regular screenings and early detection are essential to discovering any changes in your breasts.
Are you seeing the signs?
About 1 in 8 women
will be diagnosed with breast cancer in her lifetime.1
In 2020, about 
2,3 million women
were diagnosed with breast cancer worldwide.2
Every 14 seconds,
a woman is diagnosed
with breast cancer.2
Breast cancer is the
most common
cancer worldwide2
Breast cancer accounts for about
30% of total female cancer
cases in the US.3
66% of breast cancer
cases are caught at a localized stage, when it's easiest to treat.1
When caught early, the 5-year 
survival rate is 99%
Know Your Lemons BREAST SCHOOLTM has taught over 67,000 volunteer educators in 60 countries and counting.
Early detection has
saved an estimated
460,000
lives.1
The breast cancer death rate has
declined by 43%
since 1989.1
Breast density: The other ABC's.
According to the new guidelines, there are 4 levels of breast density7. If you have denser breasts, you have a greater risk of breast cancer, and they can be more difficult to scan for cancerous tumors. The good news is, there are many advanced screening options, such as 3D mammograms to give you and your doctor a clearer picture of your breast health, even if you have dense breasts.

You cannot tell your breast density by "feeling," but your mammography report will tell you your density level. Also, it's not just one-and-done. Breast density can change throughout your life, so it's essential you get screened regularly. Learn the basics on breast density in the Know Your Lemons app, or check out this Q&A blog pos
Hologic 3D MammographyTM exam
Hologic 3D MammographyTM exam have been shown to find up to 65% more invasive breast cancers than 2D alone,4 and can even provide a more comfortable mammogram. Plus, it's the fastest scan available, so you spend less time under compression. Talk to your doctor about a Hologic® 3D Mammography™ exam today.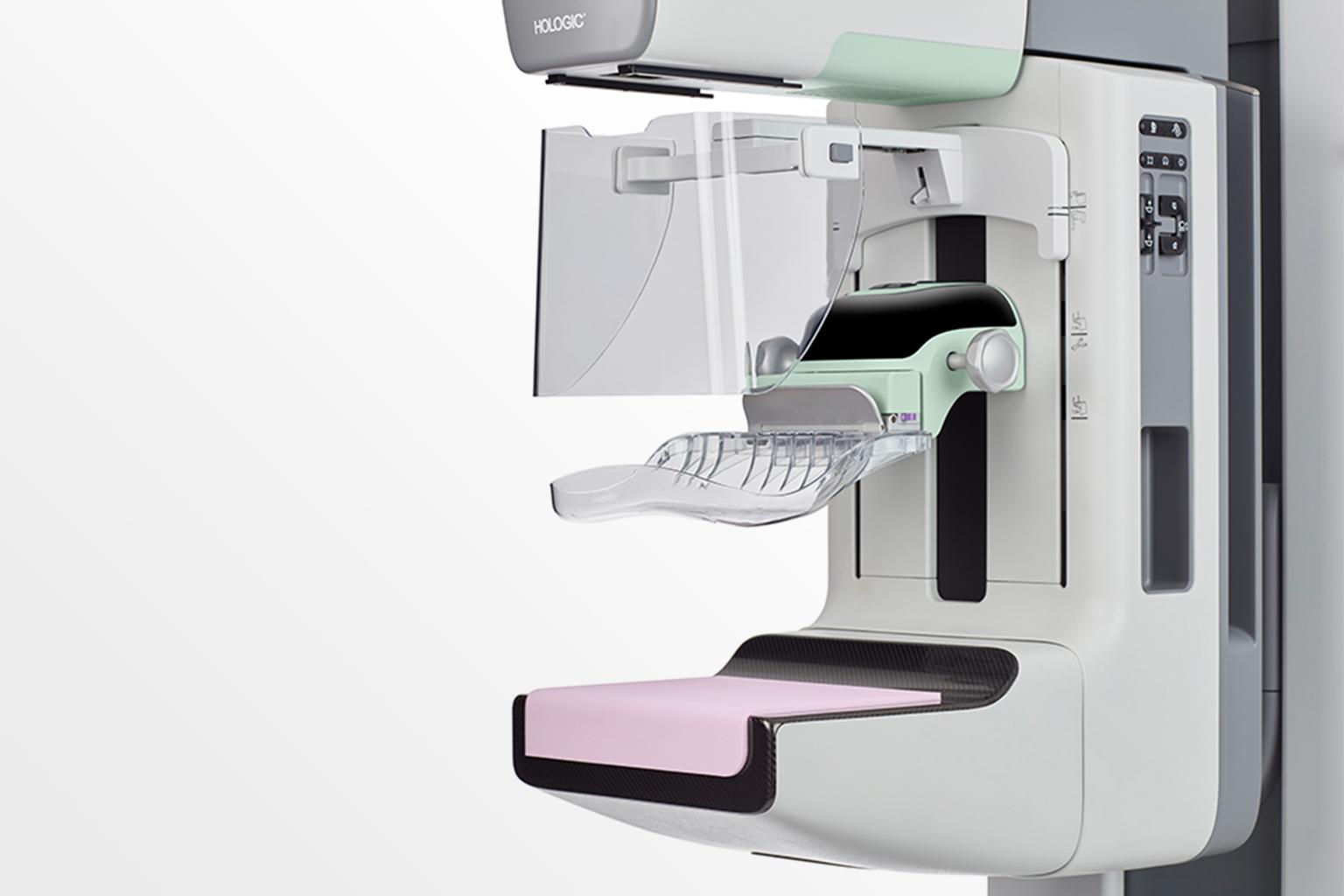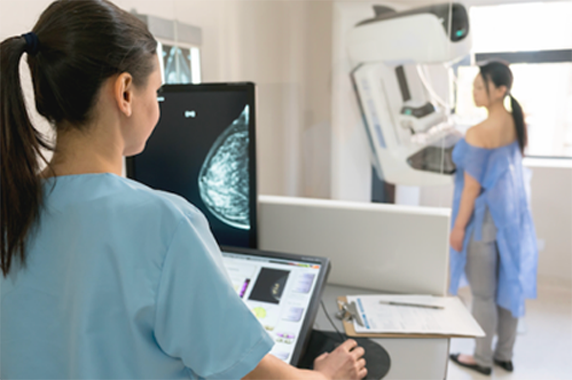 Take the mystery out of mammograms.
Mammograms are simple, quick, and the best way to screen for breast cancer. But what actually happens during a mammogram? Let us walk you through all the steps.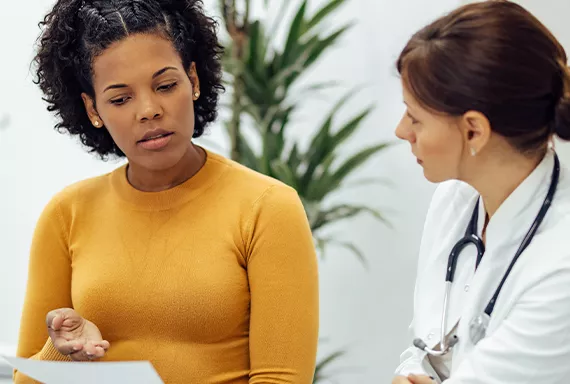 Stay informed beyond Breast Cancer Awareness Month.
Breast Cancer Action Month is the perfect time to make an ongoing commitment to yourself, and to encourage the women and men in your life to get educated about breast cancer. The more we all get involved, the better we can all #KnowBreastCancer.
Be a part of the early detection movement.
Become a certified Know Your Lemons Breast Health Educator and join a global team of people dedicated to making an impact and saving lives. With the right tools, training, and resources, you can empower women within your community.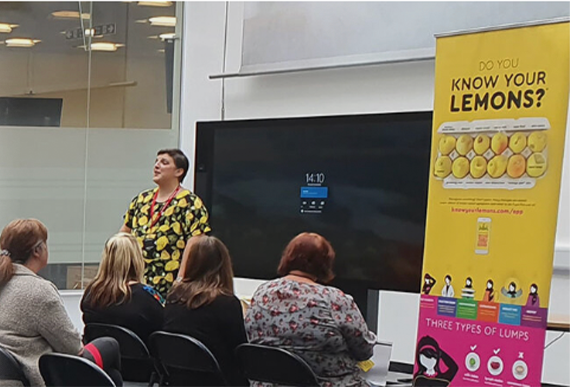 WEB-01954 (9/23) Hologic Inc. ©2023 All rights reserved. Hologic, Genius, The Science of Sure and associated logos are trademarks and/or registered trademarks of Hologic, Inc., and/or its subsidiaries in the United States and/or other countries. This information is intended for medical professionals in the U.S. and other markets and is not intended as a product solicitation or promotion where such activities are prohibited. Because Hologic materials are distributed through websites, eBroadcasts and tradeshows, it is not always possible to control where such materials appear. For specific information on what products are available for sale in a particular country, please contact your local Hologic representative.
*Compared to 2D alone
1. American Cancer Society. Breast Cancer Facts & Figures 2022-2024. Atlanta: American Cancer Society, Inc. 2022. 2. Breast Cancer Research Foundation, Breast Cancer Statistics and Resources, Retrieved August 25, 2023, https://www.bcrf.org/breast-cancer-statistics-and-resources/ 3. Breast Cancer Facts and Statistics, Retrieved August 25, 2023, https://www.breastcancer.org/facts-statistics  4. FDA submissions P080003, P080003/S001, P080003/S004, P080003/S005, P080003/S006.  5. Friedewald SM, Rafferty EA, Rose SL, et al. Breast cancer screening using tomosynthesis in combination with digital mammography. JAMA. 2014 Jun 25;311(24):2499-507.  6. Debra L. Monticciolo, MD, Mary S. Newell, MD, Linda Moy, MD, Bethany Niell, MD, PhD, Barbara Monsees, MD, Edward A Sickles, MD, "Breast Cancer Screening in Women at Higher-Than-Average Risk: Recommendations From the ACR." Journal of the American College of Radiology Volume 15, Issue 3 (March 2018): 408-414. https://doi.org/10.1016/j.jacr.2017.11.0347. F. R. (2023, March 10). Mammography Quality Standards Act Vol. 88, No. 4  7. Federal Register- The Daily Journal of the United States Government. Retrieved March 30, 2023, from https://www.govinfo.gov/content/pkg/FR-2023-03-10/pdf/2023-04550.pdf