Concordia Summit panel features latest findings from Hologic Global Women's Health Index
Concordia Summit panel features Hologic Global Women's Health Index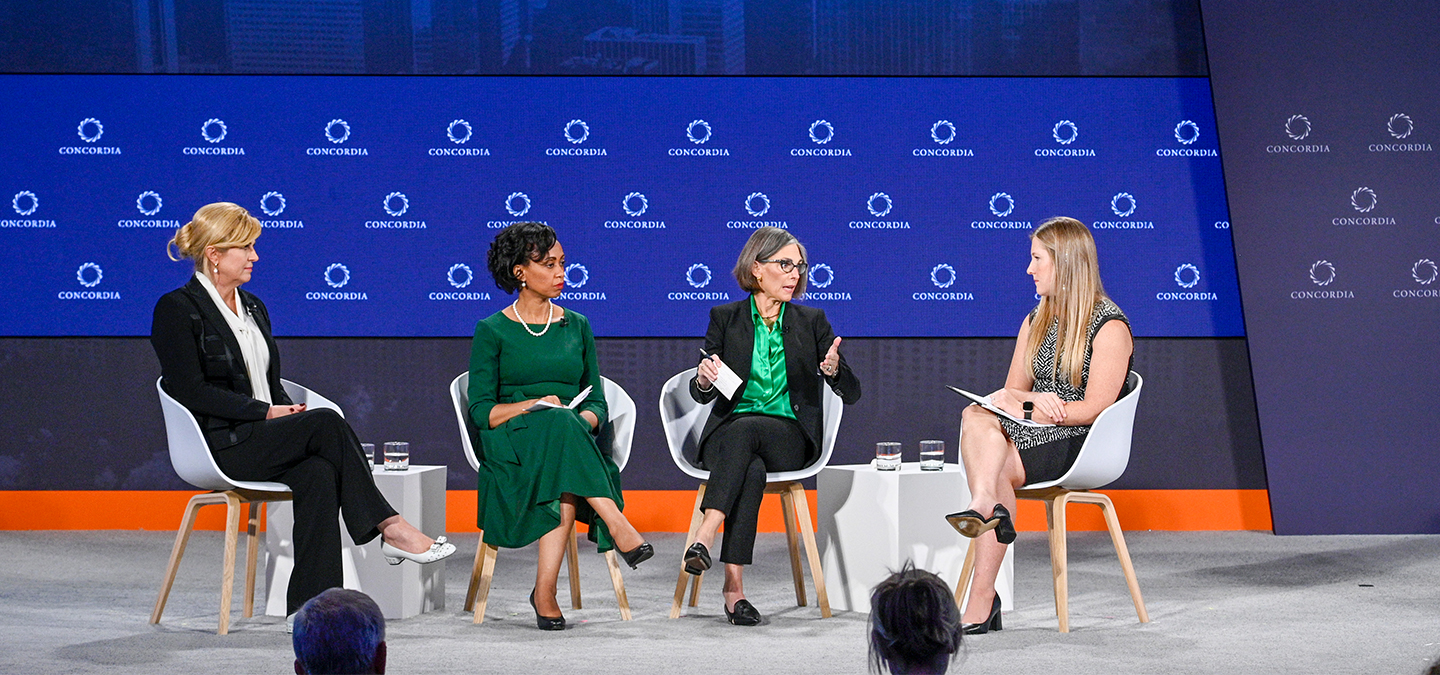 Timed to the United Nations gathering in New York City each September, Concordia brings together leaders from the worlds of government, business, academia and nonprofits to promote partnerships that address humanity's pressing issues.
The Hologic-led panel on September 19, 2022 featured:
Dr. Susan Harvey, Hologic's vice president of worldwide medical affairs
Kolinda Grabar-Kitarović, former president of the Republic of Croatia
Dr. Lia Tadesse, health minister for the Federal Democratic Republic of Ethiopia
Journalist Caitlin Owens from Axios, who served as moderator

Dr. Harvey began the panel session by summarizing the latest data from the Index, which Hologic publishes annually in partnership with the analytics authority Gallup. The study provides the largest worldwide assessment of women's experiences about health and well-being. For the second annual Index report, approximately 127,000 people worldwide – including 66,000 women and girls aged 15 or older – were surveyed during 2021 in more than 140 languages. This immense reach means the Index represents 94% of the world's women and girls.
Dr. Harvey underscored that 2021 data from the Index shows more than 1.5 billion women worldwide lacked screenings for any type of cancer, heart disease, diabetes and sexually transmitted diseases/infections – even though these conditions together affect billions of women.
She also emphasized that too many women worldwide find it challenging to make preventive care, from key medical screenings to regular visits to a healthcare professional, a top priority because of formidable barriers. These hurdles include struggles to find enough food and shelter, lack of educational opportunities and threats to women's safety, according to the Index. They contribute to widening gaps in women's well-being across high- vs. low-income countries, urban vs. rural areas, and highly- vs. less-educated individuals. The barriers also fuel record-high levels of worry, stress, sadness and anger among women worldwide.
Quote from Dr. Susan Harvey
"The news is sobering for sure, yet I think we also have to be optimistic that we do have a framework," Dr. Harvey said during the panel discussion. "If we can prioritize women's health within the resources that are available in each country and region … (we) can improve the quality of women's lives and ultimately life expectancy. There's a lot of work to be done."
She also shared that the Index's unique value includes its clear framework for governments, other stakeholders and the public to achieve progress in elevating women's health.
Dr. Tadesse and Grabar-Kitarović affirmed the Index's data-driven insights based on their years of frontline policymaking efforts. Dr. Tadesse hailed Ethiopia's commitment to expanding access to women's health services across her country but cautioned that much more improvement remains needed, while Grabar-Kitarović expressed concern that COVID has seriously undermined preventive care and worsened emotional health in Croatia.
To watch the conversation with Dr. Harvey, Dr. Tadesse, Grabar-Kitarović and Owens, click on the video below: