A Message From Our Chairman, President and CEO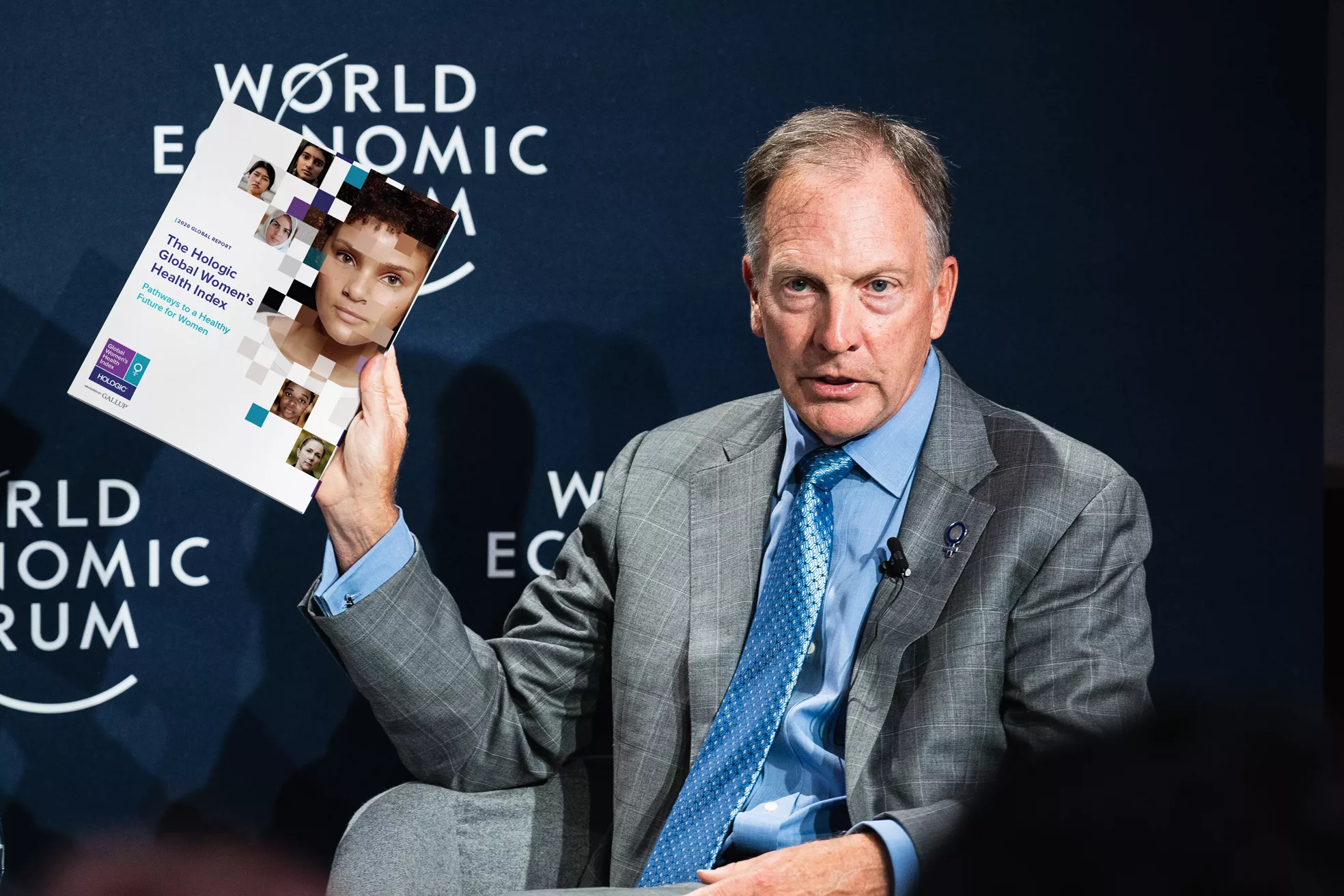 Steve MacMillan at the World Economic Forum gathering in May 2022.
Dear Hologic Stakeholders,
Thanks to all of you for taking an interest in our sustainability journey. We are excited to showcase our 2022 report and the progress we continue to make living into our purpose, passion and promise:
Our purpose is to enable healthier lives everywhere, every day.
Our passion is to champion women's health globally.
Our promise is The Science of Sure®, a commitment to provide healthcare professionals clinically differentiated, high-quality products.
Before diving into the highlights of this year's report, I'd like to reflect on the theme of false choices raised in the introduction letter to last year's Sustainability Report. These false choices, in which something is presented as undoubtedly true or false, have defined much of today's discourse — from politics to business to everyday conversations at the dinner table. Perhaps inevitably, the framing of false choices has also made its way into environmental, social and governance matters.
At Hologic, we believe the best companies don't have to choose between sustainability and maximizing performance. We commit to elevating women's health worldwide while generating strong financial returns for our shareholders. As you will see from the breadth and depth of our initiatives, each objective is intimately connected to our business strategy because doing the right thing is fundamental to who we are.
Our financial success, sustainability strategy, commitment to helping more women — all while reducing our carbon footprint and acting ethically in all matters with our stakeholders — are intertwined. This relationship led to the creation of our virtuous circle. Through our deep focus on innovation and The Science of Sure, we generate financial returns and leverage these benefits to invest in groundbreaking women's health initiatives like the Hologic Global Women's Health Index, Project Health Equality and work with the World Economic Forum. These achievements enable us to elevate women's health globally by advancing access, policy and awareness.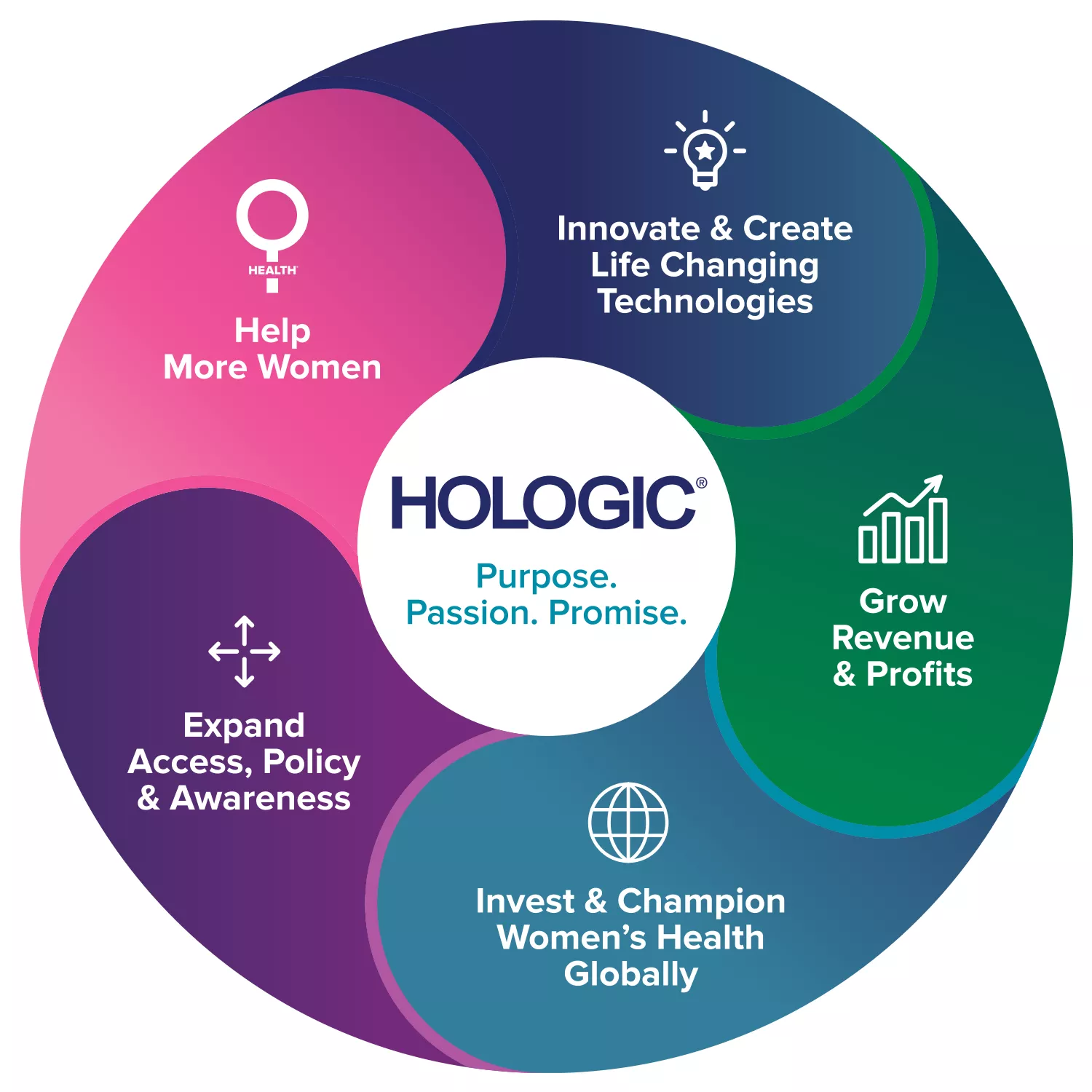 Hologic's virtuous circle represents our corporate objectives.
On that note, we are excited to share four highlights and key initiatives that illustrate our commitment to helping improve women's health, as well as the lives of those who live in communities where Hologic conducts business:
First, the Hologic Global Women's Health Index, conducted annually in partnership with Gallup®, reveals unique insights directly from the experiences of women and provides a framework for making progress. The Index's results underscore that prioritizing women's health is more critical now than ever. It is striking and disheartening that even in developed economies, women's health has taken a step back in the past year. For example, more than 1.5 billion women worldwide lacked essential health screenings for cancer, heart disease, diabetes and sexually transmitted infections. This is unacceptable. With the multiyear Index initiative, we will continue to bring awareness to women's health at the highest levels, as evidenced by our inaugural participation at the 2022 World Economic Forum's gathering in Davos, Switzerland. We will relentlessly engage policymakers, business leaders, scholars, nonprofit advocates and others to join us in helping women around the world live longer and better.
Second, with Project Health Equality, we collaborate with our partners to reduce the healthcare disparities gap that underserved women face. Research shows, for example, that Black women are almost 40% more likely to die from breast cancer compared to non-Hispanic white women. Together with our Project Health Equality partners, we aim to change these statistics. Elsewhere in this report, we proudly highlight events, partnerships and programs that help women overcome systemic hurdles to high-quality healthcare.
Third, our global alliance with the Women's Tennis Association (WTA) creates what WTA President Micky Lawler describes as a "fantastic partnership — couldn't have asked for a better team of people, a better brand and a better shared mission." We and the WTA, two champions for women, have joined forces to realize further progress.
As the WTA's lead sponsor, Hologic works with the sport's legends and athletes to increase awareness of preventive care, advance equality for women on and off the court as well as raise money for the charitable ACEing Cancer program to fund researchers and nonprofit groups battling women's cancers.
Fourth, our employee engagement is best-in-class. It is a direct reflection of our vibrant culture, created by teams of people committed to living our organization's purpose. In 2022, Hologic received Gallup's Exceptional Workplace Award for the second year in a row. As I speak with both long-serving and new employees, our purpose shines through as a strong motivator for continued success.
While we have made meaningful progress, our sustainability journey is by no means complete. Every day, we seek to improve and refine our strategy with heartfelt purpose, passion and promise. The women of the world deserve nothing less.
Steve MacMillan
Hologic Chairman, President and CEO