Overview
Documents
Training
A proven and dependable solution for fast, compassionate, and easy breast biopsy.
At Hologic we are committed to minimizing the procedure's impact on the patient and on the facility by designing clinically effective solutions that optimize facility workflows and create a better patient experience.
The Eviva Breast Biopsy system, designed for both prone and upright systems, offers multiple device options trusted Globally in nearly 3,000 facilities and in over 2.4 million biopsies.1
Fast
Remove 6 consistent cores in under 30 seconds with 4.5 second biopsy cycle time.* 
Keep total control with manual needle rotation at your fingertips, no programming required. 
Manage patient bleeding without stopping the procedure with saline lavage and constant aspiration. 
Compassionate
Offer patients a positive cosmetic outcome with maximal core samples and minimal incision size.2 
Keep patients calm. Biopsy with a quiet remote pneumatic firing system that helps not startle the patient versus other adapter release systems.3
Manage patient pain with local anesthetic directly to the biopsy site with every core.4
Obscure blood from patient view with translucent color tubing. 
Easy
Optimize access to challenging lesions close to the chest wall using a low-profile needle. 
Manage a wide spectrum of patients with needle size, length, and aperture options. 
Manage thin breast compressions as small as 16mm.5
Work seamlessly on Hologic's market leading Affirm® prone and upright biopsy guidance systems with all needle parameters pre-programmed.4 
Easily mark the site with integrated site marking solutions. 
" ... Represents a Major Advance ... "
"The pneumatic firing capability of the Eviva device represents a major advance over conventional biopsy systems. The decrease in the sound of the firing mechanism has a major impact on patients' perception of the procedure, reducing their overall anxiety and perception of pain."
" Set-up time is faster... "
"Set-up time is faster, 5 minutes on average. The design of the system gives you a nice visual to follow for steps needed, frees up the tech once the radiologist starts to sample, and allows us to turn the room over faster. I have seen a real commitment on Hologic's part to improving the overall experience for patients having breast biopsies as well as improving efficiency for the radiologist and technologists. Patients routinely say, "It was much better than I thought it would be.'"
Specifications
With multiple 9g and 12g needle options in standard and petite configurations; superficial, chest wall, and retroareolar lesions are easily handled by choosing the right needle for the task.
Gauge: 9 or 12 gauge
Length: 10 or 13 cm
Aperture: 20 mm
Throw/Stroke: 23 mm
Gauge: 9 gauge
Length: 10 or 13 cm
Aperture: 12 mm
Throw/Stroke: 15 mm
Gauge: 9 gauge
Length: 10 or 13 cm
Aperture: 12 mm
Product Gallery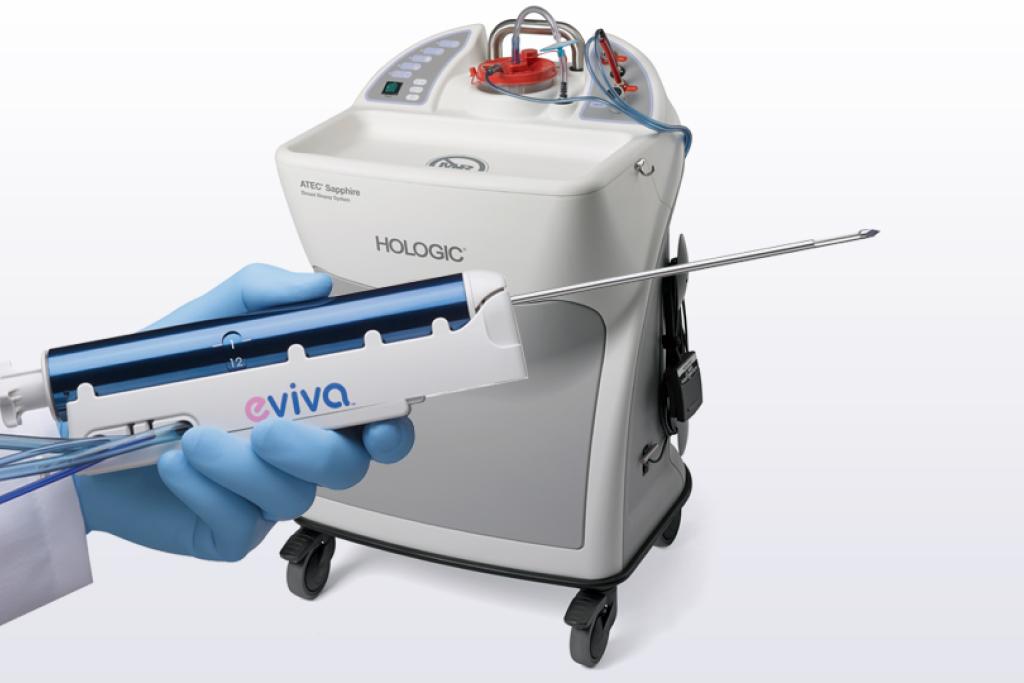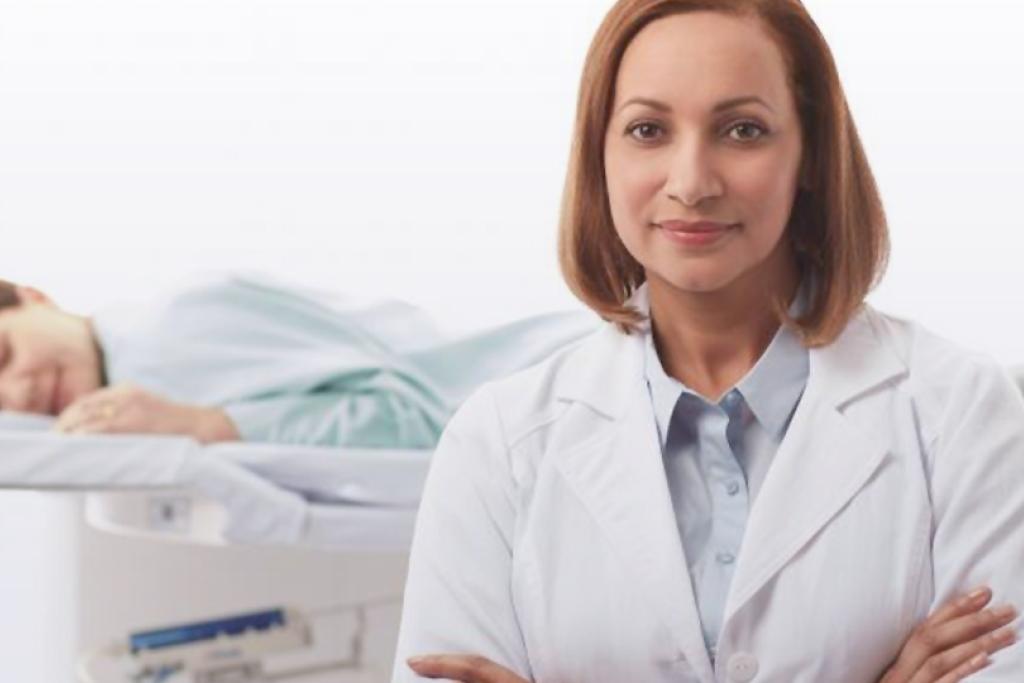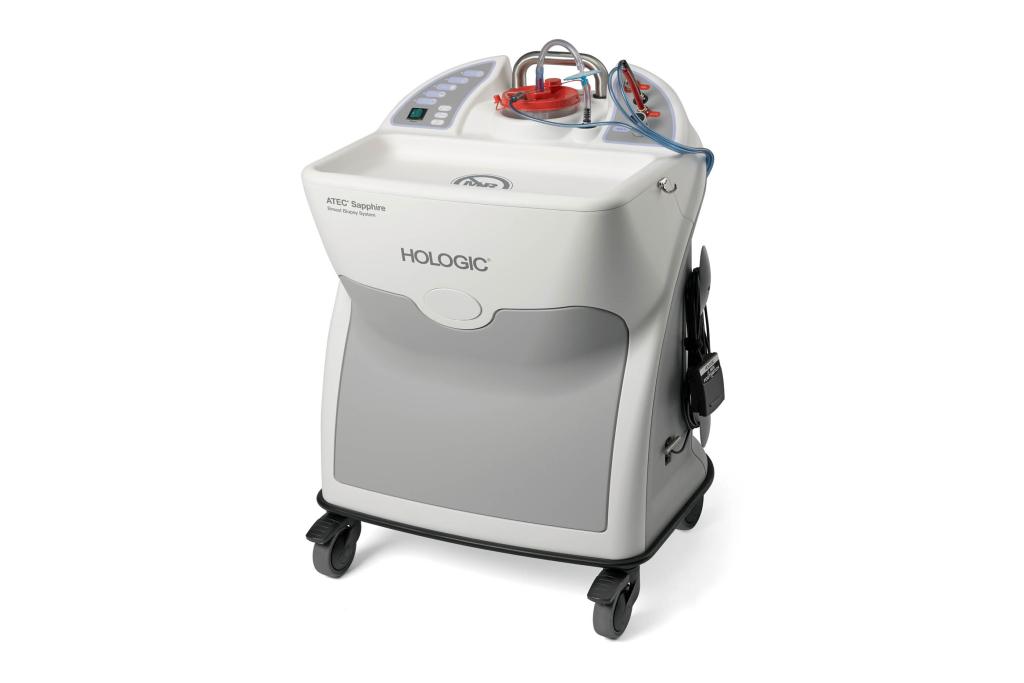 Total Solution
Faxitron® Core Specimen Radiography System.
Accelerate Your Procedure. Combine the Faxitron® Core Specimen Radiography System in your suite, to eliminate delays for core sample verifications with the core specimen radiography system designed to provide high-resolution imaging in the room, helping you accelerate procedures and get patients out of compression faster.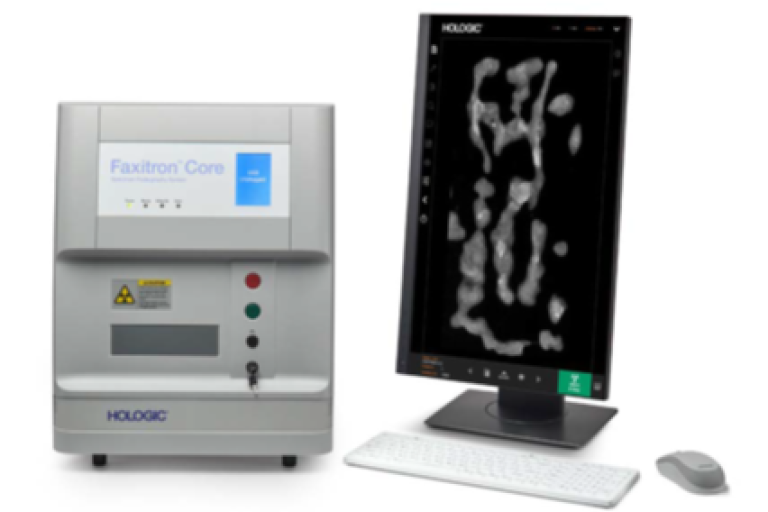 Breast Biopsy Markers
At Hologic, we have distinct shapes with options for great long-term ultrasound visibility. Designed so you can identify sites with confidence. Hologic provides an array of biopsy site marking options specific for the Eviva system, composed of bio-compatible permanent titanium, stainless steel, or nitinol.
Reimbursement
Resources to help you with physician, hospital and ambulatory service center coding and reimbursement of our products
References:
1. Hologic data on file, Compared to Specimen imaging on mammography unit outside of the biopsy suite, 2015 Kadence International survey of 200 healthcare professionals. 2. Hologic data on file, Compared with stereotactic (2D) biopsy. 3. Schrading S, Martine D, Dirrichs T, et al. "Digital Breast Tomosynthesis-guided Vacuum-assisted Breast Biopsy: Initial Experiences and Comparison with Prone Stereotactic Vacuum-assisted Biopsy." Radiology. 2015 274:3, 654-662 E-pub 2014 Nov 12. 4. Smith A, Sumpkin J, Zuley M, et al. "Comparison of Prone Stereotactic vs. Upright Tomosynthesis Guided Vacuum Assisted Core Breast Biopsies." (paper presented at the annual meeting for the Radiological Society of North America. Chicago, Il, November 2014).