Related link: Coronavirus (COVID-19) Service and Support Business Continuity Statement
Hologic's global leadership in molecular diagnostics has enabled us to create a highly accurate, fully automated test that detects genetic material from SARS-CoV-2, the new coronavirus strain, in under three hours.
The U.S. Food and Drug Administration (FDA) granted Emergency Use Authorization (EUA) for Hologic's Panther Fusion® SARS-CoV-2 test, which identifies the virus causing COVID-19.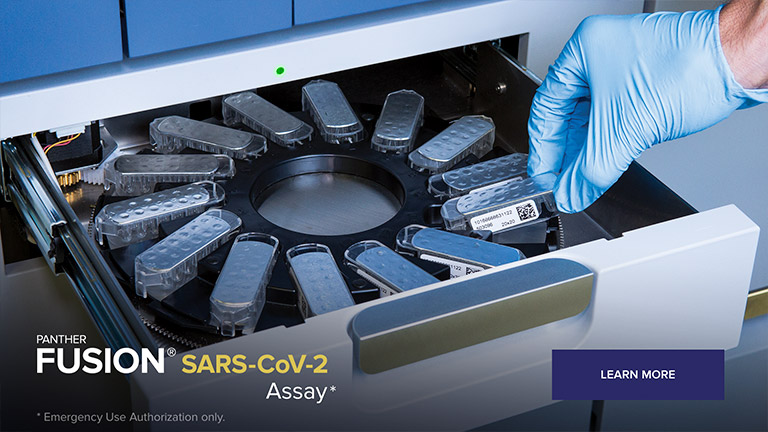 Assay Cartridge Loading/ Storage Carousel
Hologic began research for a new coronavirus test shortly after the COVID-19 outbreak emerged in China. Our company's development and manufacturing teams have worked around the clock to create the test, which runs on our Panther Fusion system, and prepare for its market rollout.
Our test was the first COVID-19 diagnostic product to receive development support from the U.S. government's Biomedical Advanced Research and Development Authority (BARDA). The agency's partnership includes nearly $700,000 in funding.
Public health leaders at the WHO, FDA, BARDA, U.S. Centers for Disease Control and Prevention (CDC) and elsewhere have emphasized that rapid diagnosis is critical to managing people infected with COVID-19 – and thus critical to mitigating the spread of the virus.
"Making rapid and accurate diagnostic tools available to healthcare providers is critical for early detection and control of COVID-19," said BARDA Director Rick Bright. "The speed at which this assay was developed, validated and issued EUA—less than two months—is a testament to Hologic's commitment to helping reduce the global COVID-19 burden."
Hologic has begun shipping the product to labs across the United States. Starting in April, we expect to make almost 600,000 of these tests per month.
"We at Hologic feel incredibly proud to be right on the leading edge of testing breakthroughs that will help lead the world out of this COVID-19 pandemic," said Steve MacMillan, Chairman, President and CEO of Hologic.
Subscribe to our channel for updates
He and Kevin Thornal, President of Hologic's Diagnostic Solutions Division, see the new SARS-CoV-2 test as the latest in a long history of innovations against global health threats.
That Hologic history includes inventions for screening or testing of HIV, cervical cancer, breast cancer and sexually transmitted infections. It also includes Hologic's fast-track development of a Zika test in 2016 during an international outbreak of that virus.
"With our legacy of innovation and unique capabilities in molecular diagnostics, we're in a great position to help provide a diagnostic tool for the COVID-19 public health challenge," Thornal said.
He spoke from a lab on Hologic's campus in San Diego, where scientists designed the SARS-CoV-2 test and put it through a battery of checks to ensure the product's accuracy and reproducibility.
Near that lab, other Hologic teams prepared the company's application for Emergency Use Authorization and developed plans for manufacturing the test in large quantities.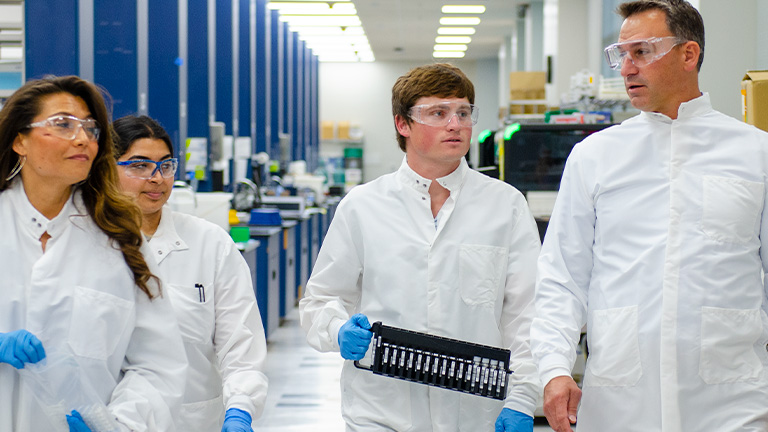 Kevin Thornal, President of Hologic's Diagnostic Solutions Division, and Diagnostic employees
Hospital, public health and reference laboratories will run Hologic's new test on the Panther Fusion systems that are already in wide use across the United States.
Panther Fusion, launched about three years ago, automates the complex steps involved in molecular diagnostics. This automation not only speeds up testing but also reduces the chances for error when compared to the traditional lab setup, which has many manual processes.
Panther Fusion is also distinctive because of its high testing throughput, small footprint compared to other high-throughput competitors, and versatility in being able to run 16 different FDA-approved tests.
Importantly, with Panther Fusion, healthcare providers can test for SARS-CoV-2 from the same patient sample and collection vial that they currently use to diagnose other common respiratory viruses whose symptoms overlap with COVID-19, boosting efficiency and increasing clinical insight.
---
RELATED LINKS
kusi.com/san-diego-based-hologic-develops-test-for-covid-19/
investors.hologic.com/press-releases/press-release-details/2020/Hologics-Molecular-Test-for-the-Novel-Coronavirus-SARS-CoV-2-Receives-FDA-Emergency-Use-Authorization/default.aspx
fda.gov/emergency-preparedness-and-response/mcm-issues/coronavirus-disease-2019-covid-19
https://www.hologic.com/hologic-products/diagnostic-solutions/Panther-Scalable-Solutions/panther-fusion-system
who.int/emergencies/diseases/novel-coronavirus-2019/events-as-they-happen
hhs.gov/about/news/2020/03/09/hhs-supports-development-of-first-high-throughput-covid-19-diagnostic-test.html
who.int/emergencies/diseases/novel-coronavirus-2019
https://www.phe.gov/about/barda/Pages/default.aspx
cdc.gov/coronavirus/2019-nCoV/index.html
investors.hologic.com/press-releases/press-release-details/2016/FDA-Grants-Emergency-Use-Authorization-for-Hologics-Aptima-Zika-Virus-Assay/default.aspx