A New Era of Prone Biopsy
The Affirm prone breast biopsy system delivers faster, more comfortable procedures by increasing automation, providing superior imaging and giving 360° access to the breast, creating a better experience for patients and providers.1
Superior imaging capability and a wider field of view.
With high quality 2D or tomosynthesis (3D™) imaging and a field of view that's more than 6.5 times larger than older generations of prone biopsy systems,1 clinicians can visualize more tissue and pinpoint subtle lesions and faint calcifications that may not be visible on older systems. It also allows for easy software upgrade from 2D to 3D imaging at any time.
Increased automation for fast, easy procedures.
Featuring an automated tube-head motion, pre-programmed needle parameters and one-click targeting, the Affirm prone biopsy system is streamlined for efficiency. Its intuitive software and increased automation foster a faster, more efficient workflow, and fewer procedural steps help reduce the chance of manual errors.1
Quickly reach challenging lesion locations.
A fully integrated C-arm and bidirectional patient positioning provide a new level of 360° access to the breast, improving access to some of the most challenging lesions.1 The system features an independently rotating biopsy arm and exclusive lateral needle approach that allows clinicians to switch from a standard to lateral approach in seconds—without additional attachments and without the need to reposition the patient or acquire additional images.
Give patients a compassionate experience.
More than 95% of patients reported their Affirm prone biopsy procedure was faster, more comfortable and less painful than expected.3 The system is designed with patients' physical and emotional comfort in mind. Direct view of the biopsy needle is eliminated, helping reduce patient stress, and clinicians can quickly identify, target and access lesions to help reduce time spent in compression.1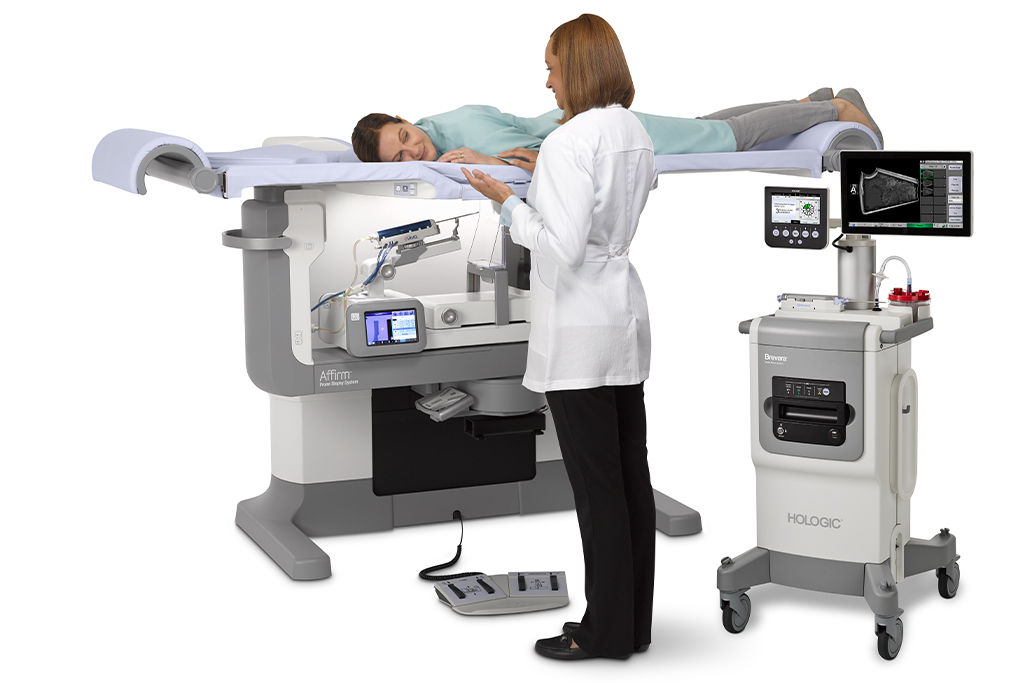 Simulated 3D Breast Biopsy Procedure
Products
The 2D biopsy configuration provides traditional 2D stereotactic biopsy capabilities while also providing superior imaging, a faster easier workflow and improved access to the breast.1
The 3D biopsy configuration provides all of the capabilities of the 2D configuration, but also adds tomosynthesis-guided biopsy.
Bi-directional elevating patient support platform.
Fully integrated and independently rotating tube-arm, biopsy arm, detector mechanism.
Exclusive, fully integrated lateral needle approach.
180° continuous C-arm rotation.
Under table and biopsy field work lights (LED, dimmable).
High resolution color touchscreen biopsy control module.
DICOM: Worklist, Query/Retrieve, Storage, Storage Commitment, Print.
1 set of Paddles: 5 cm x 5 cm (biopsy window) standard, 6 cm x 7 cm Standard, 5 cm x 5 cm axillary, 15 cm (total width) lateral.
Fine needle guide accessory.
1 stool with backrest.
Electronic lift mechanism (40.7 cm vertical travel).
Workflow display monitor: 17" 1280 x 1024 resolution.
2 MP or 3 MP DICOM image display monitors.
Introductory Video: 3D Breast Biopsy Procedure with Eviva® biopsy device
References:
1. Compared to MultiCare® Platinum System. 2. Compared to MultiCare Platinum system and Mammotome MammoTest systems. 3. Survey of 209 patients post-procedure at 3 hospitals, 10 clinicians.