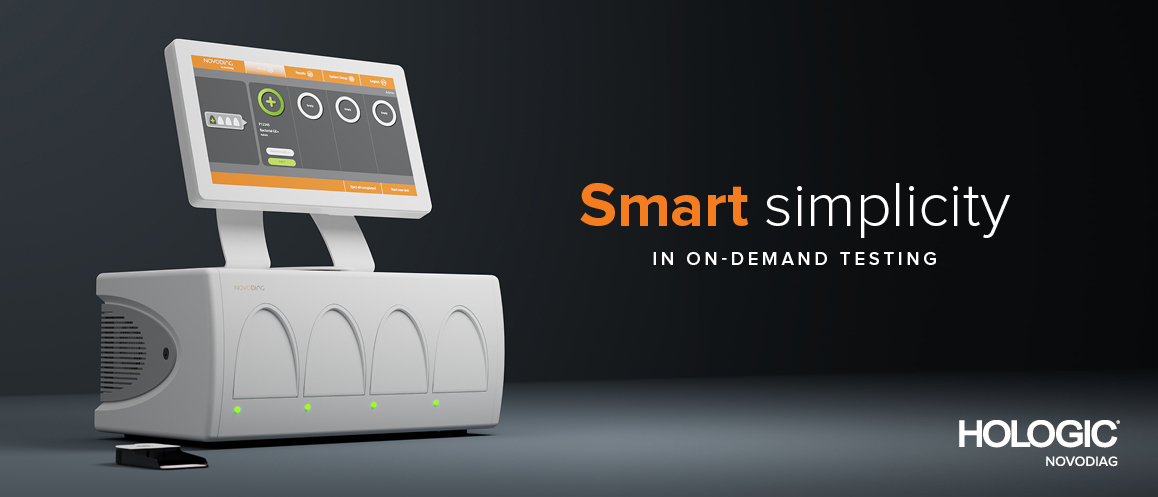 Introducing the Novodiag® System
The Novodiag System offers a simple and fast way to pinpoint patients most at risk with targeted and syndromic on-demand testing.
The high multiplex technology is precision engineered for simplicity and accuracy across a broad and growing menu of high and low plex assays to detect common infectious diseases and antibiotic resistance.
With just a few simple steps, the Novodiag System delivers rapid results in about an hour, bringing clinical confidence and enabling fast, life-saving diagnoses.
Together, we can cut through the complexity of molecular diagnostics.
Key features and benefits
Small, quiet, fully-automated easy-to-use platform
Analysis of a patient sample with a single-use cartridge
Requires only one consumable, which is stored at room temperature and is easily disposable
Clear display of results in around an hour
Four independent slots per instrument add flexibility and convenience
Up to four instruments can be stacked and controlled by a single computer with Novodiag PLUS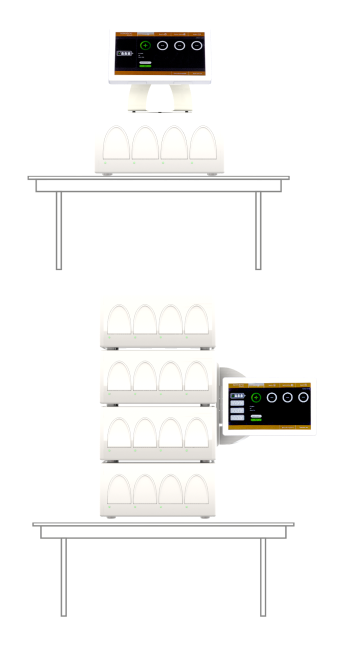 The Novodiag System offers a wide menu of targeted and high multiplex assays in one instrument to simplify your molecular diagnostic testing:

Gastrointestinal infections:
Novodiag Bacterial GE+ assay:
wide detection of bacteria associated with gastroenteritis
Novodiag Stool Parasites assay:
wide detection of gastrointestinal parasites

Antimicrobial resistance management:
Novodiag CarbaR+ assay:
wide detection of resistance genes to carbapenem and colistin

Hospital-acquired infections:
Novodiag C. difficile assay

Respiratory infections:
Novodiag COVID-19 assay
Novodiag Resp-4 assay
And the menu is growing -
more assays are in development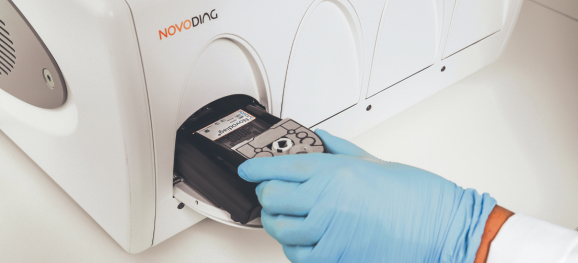 The Novodiag System is part of Hologic's Molecular Scalable Solutions
Giving labs of all shapes and sizes the power of choice.
With over 30 years of expertise, Hologic's Molecular Scalable Solutions are designed to help meet the growing demands of your lab, today and in the future.
The decentralised, speciality and emergency testing delivered by the Novodiag System complements the centralised high-throughput testing offered by the Panther® System.
From a rapid single-patient result to population-level screening, Hologic's Molecular Scalable Solutions meet the growing pressure and demands of today and tomorrow – all with the advantage of working with just one trusted partner.

Contact us today to learn more about the Novodiag System.