Governance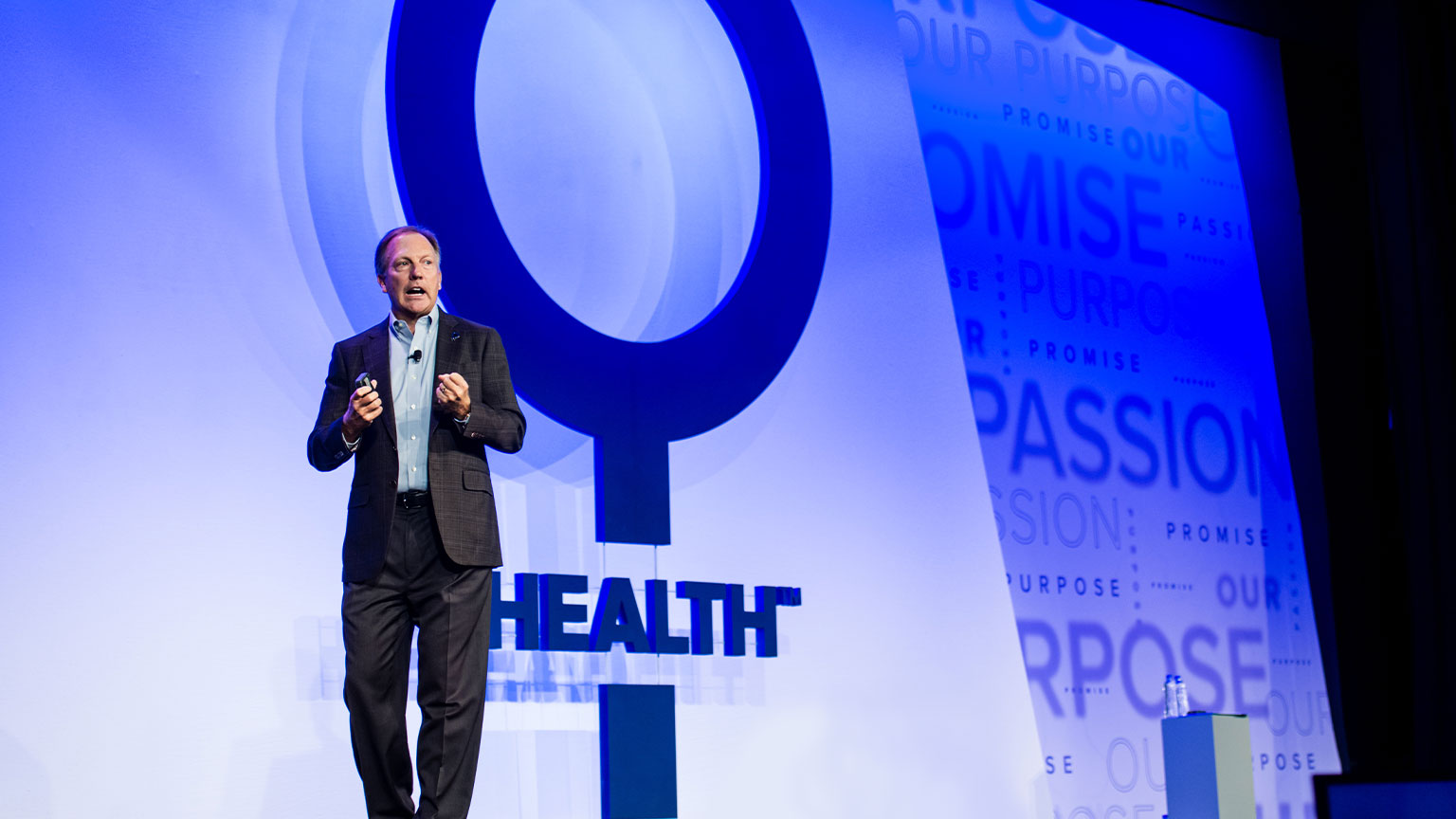 Steve MacMillan, Chairman, President and Chief Executive Officer, at 2019 National Sales Meeting.
Inviting Feedback from Our Largest Investors
As part of our transformation, we solicit feedback from our largest investors during the proxy "off-season." Feedback from investors has helped shape our compensation programs, as well as our governance structures. In fact, discussions with several of our largest investors helped shape our approach to sustainability reporting, including the development of this report.
Roles of the Board
The members of the Board continually educate themselves on our products, markets, customers, competition and culture. In addition to overseeing the Company's strategic direction, the Board also oversees risk and ESG, evaluates management's performance, plans for successors, and provides overall guidance and direction to the Company.
KEY SKILLS

Compensation Philosophy and Structure
Our executive compensation program is guided by the principles of pay for performance, competitive pay and focus on total direct compensation. With our focus on growth, efficient use of capital and shareholder value, we use measures of adjusted revenue, adjusted EPS, ROIC (return on invested capital) and relative TSR (total shareholder return) for incentive compensation plans. Moreover, our Board believes that our directors and officers should hold a meaningful financial stake in the Company in order to further align their interests with those of our stockholders.
Governance Policies and Procedures
Employee Code of Conduct: Our Code of Conduct outlines Hologic's commitment to integrity and ethical conduct.
Diversity: Hologic is fundamentally committed to the principle that those we interact with, whether employee, vendor, partner or customer, will be treated with respect, dignity and professionalism.
Human Rights and Fair Working Conditions: Hologic supports fundamental human rights globally and is committed to a work environment that is free from human trafficking, slavery and forced child labor. We also follow all applicable wage and hour laws.
Intellectual Property and Data Privacy Protection: Several internal policies and associated employee training courses are designed to safeguard the confidentiality, integrity and availability of our information and systems.
Ethics in Sales and Marketing: As a developer, manufacturer and supplier of diagnostics and medical devices, Hologic is subject to laws and regulations designed to protect patients and consumers, improve the quality of healthcare services and help eliminate fraud and improper influence on medical judgment. Our products are closely regulated by government agencies, health ministries and regulatory authorities worldwide. We have also taken numerous steps to ensure our employees understand how to achieve business objectives with transparency, honesty and integrity.
Ethical Interactions with Healthcare Providers: Because strict regulations govern our interactions with healthcare professionals, we have developed policies and robust employee training programs, from our Healthcare Professional Interaction Policy and Healthcare Anti-Inducement and Anti-Kickback (HAK) Policy to the Sunshine Act Policy.
Conflict Minerals: Hologic supports the goal of ending human rights violations, violence and harmful environmental impacts in the covered countries and around the globe.
Antitrust and Competition Laws Compliance: Hologic requires all employees to comply with all applicable antitrust laws, and we are committed to prohibiting any actions that result in unfair methods of competition or restraint of trade.
Formal Grievance Escalation Process: We are committed to fostering an environment in which open, honest communications are the expectation, not the exception.
Hologic is commitmented to integrity and ethical conduct. Our Code of Conduct is a resource for all employees to identify the principles and values that Hologic is founded upon and to understand what is expected of them.
The Board is composed of a majority of independent directors, with the Audit and Finance, Compensation, and Nominating and Corporate Governance committees composed entirely of independent directors.
Steve MacMillan, Chairman, President and Chief Executive Officer, shares his perspective on how—and why—we are integrating sustainability into our day-to-day business operations.