Sustainability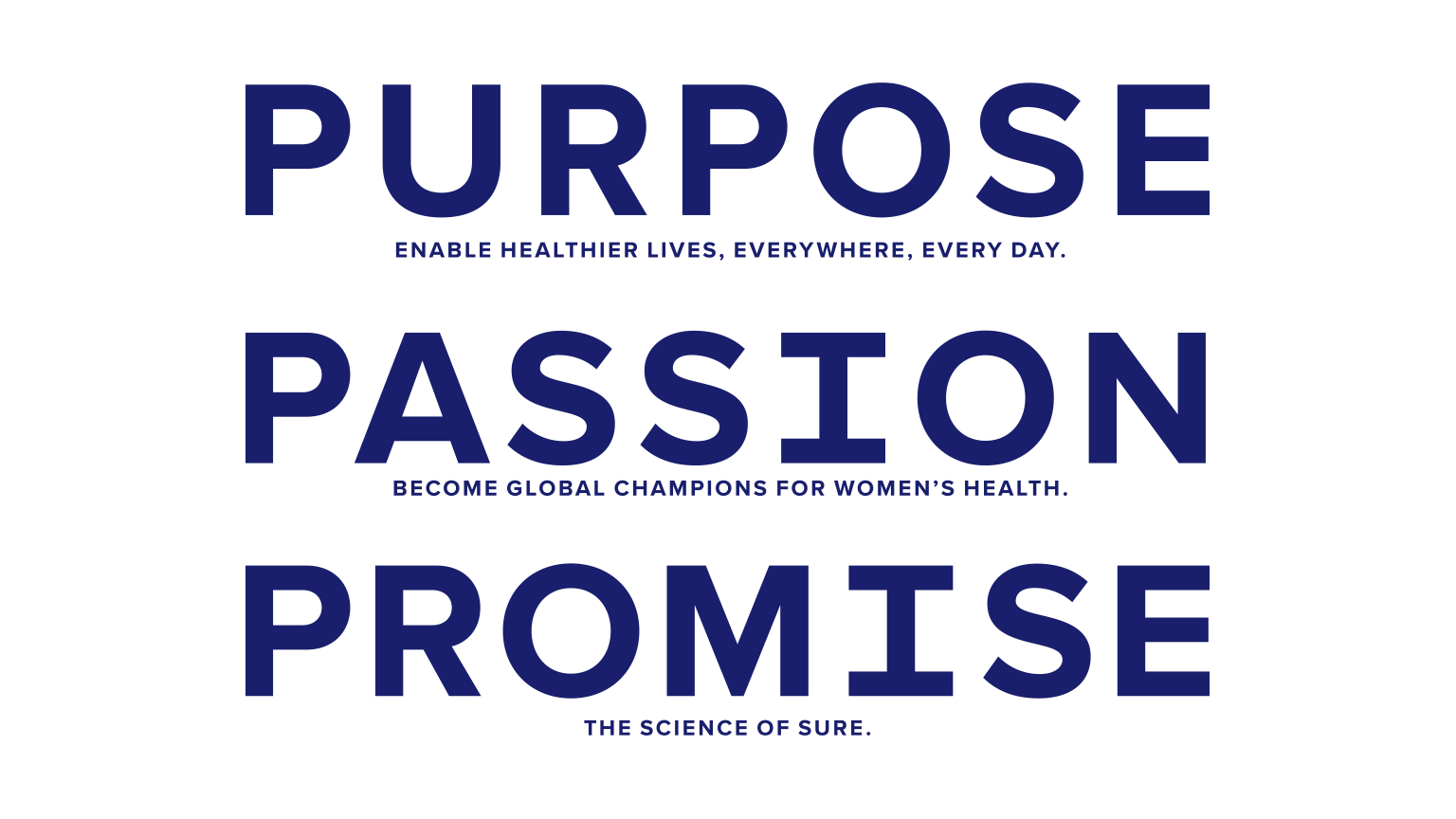 A Message from Our Chairman and CEO
Dear Hologic Stakeholders:
Thank you for reading our first sustainability report. We hope it helps you understand how Hologic makes a unique difference in the world.
We believe we have a lot to be proud of, but at the same time, a lot that we can do better. In this letter I'd like to cover three main topics. First, how we got here—the journey we've been on to identify and center around our Purpose, Passion and Promise. Second, why we integrate sustainability issues into our day-to-day business strategy and operations, rather than viewing them as separate priorities. And third, how our approach to sustainability is coming to life.
Sustainability Through Our Purpose, Passion and Promise
First, a little history. This report is an important milestone—but in no way the end—of a process that began at Hologic a few years ago. As we were evolving through organic growth, international expansion, and acquisitions and divestitures, our leadership team set out to clearly define our role in society.
Around the same time, some of our large institutional investors were increasingly analyzing environmental, social and governance factors—sometimes known as ESG—as part of their investment processes. For example, the CEO of BlackRock, the world's largest investment management company, wrote in early 2018 that:
Society is demanding that companies, both public and private, serve a social purpose. To prosper over time, every company must not only deliver financial performance, but also show how it makes a positive contribution to society … Without a sense of purpose, no company, either public or private, can achieve its full potential.
In response, and after a lot of internal discussion with our Board and employees at all levels, I wrote to stockholders in our 2019 proxy letter that: "We have a fundamental obligation to create value for shareholders through profitable, long-term growth. But this cannot be the whole story. To focus solely on financial outcomes would be to ignore the multifaceted, instrumental role that corporations play in our world. Indeed, most of our employees are motivated by a sense of higher purpose."
In that same letter, I quoted Russell Pearlman of the Korn Ferry Institute, who said that "purpose and profit not only peacefully co-exist, but purpose can drive profit." This describes our approach at Hologic well, since the very work we do—fighting disease through early detection—contributes to a healthier, more sustainable world. While companies in most industries provide important benefits to society, we believe ours is a higher calling.
Thus, at Hologic we've defined our Purpose as enabling healthier lives, everywhere, every day. We know that the more lives we touch, the more our profits will grow over the long term. In the last year, for example, we estimate that our products touched more than 234 million people around the world, and we know that today's profits will fuel even greater investments in human health in the future. Simply put, we believe strongly that for-profit enterprises like Hologic are having a massive impact on improving human health globally.
Within our Purpose, we place special emphasis on the healthcare needs of women. Our Passion, therefore, is to become global champions for women's health. We believe that early detection of disease leads to better, more cost-effective health outcomes. In fact, no company in the world has done more to fight cervical and breast cancer than we have through our innovative diagnostic solutions. While women's health is not our sole focus—we have introduced many products that also benefit men—it is our rallying cry.
We believe our unique passion is urgently needed today. For far too long, women's healthcare needs have been minimized by governments and healthcare systems in emerging—and developed—countries around the world. So we are inspired by the deep belief that our success as a company will fundamentally improve the health of millions of women and families globally. You'll read more about this in this report.
As a healthcare company, we believe we have a special responsibility to patients and medical professionals, since our products contribute to life or death decisions. We make a Promise to our customers and patients, a Promise rooted in a concept called The Science of Sure™. The Science of Sure is about progressive certainty. It's a commitment to help healthcare professionals minimize doubt and maximize the confidence they have in their decisions and diagnoses.
How do we do this? To bring The Science of Sure to life and provide value to patients, we focus on:
Product quality. Our customers—radiologists, lab technicians, OB/GYNs and many other important healthcare professionals—count on our products to perform as we say they will, when lives and livelihood are at stake. We must never compromise this trust.
Clinical differentiation. Our R&D programs are geared to generate products that provide a meaningful benefit for customers and patients.
Customers relationships. We partner with our customers over the long-term to help build their businesses and ensure that patients have access to our products. We sell with integrity, help generate patient demand, fight for appropriate reimbursement, and advocate for preventive healthcare.
Our people. We believe that focusing on two simple factors—talent and engagement—helps our employees serve customers more effectively, as well as drive profitable growth.
Sustainability as Part of Our Business Strategy
I hope it's clear that our commitment to sustainable business practices is part and parcel of our mission. Said another way, for Hologic to drive consistent, long-term shareholder returns, we must exceed the expectations of our customers—doctors and other healthcare providers who have dedicated their careers to improving human life. Likewise, we must nurture and engage our employees, who are striving to provide better lives for themselves and their families. And finally, we must respect our suppliers and our communities, without whose support our results would eventually collapse.
We believe the interests of our key stakeholders are inextricably linked. To deliver profitable growth over the long term, we must, by definition, also meet the needs of customers, employees and our communities. We don't spend a lot of time debating whether one group should rank above the others. Instead, we believe that our many constituencies are mutually supportive of one another, and that in a vibrant capitalist economy, their successes go hand-in-hand.
Similarly, we believe that sustainability issues should be integrated with our business strategy, led by our Global Leadership Team and overseen by our Board of Directors, rather than managed as a separate set of issues.
Some Early Successes
We have begun to demonstrate some early successes based on this approach, with the understanding that we have much opportunity for future improvement. For example, in the area of diversity, three of our eight directors (including our lead independent director) are women, which clearly supports the organizational passion I described earlier. And three of our directors were born outside the United States, supporting our broad definition of diversity and business goal to grow internationally.
Among our senior management team, we have promoted and hired women into key roles, including Chief Financial Officer (CFO), Senior Vice President of Human Resources, Chief Information Officer, and Chief of Staff. This represents significant progress since I joined the Company in late 2013, when every member of the senior management team I inherited was a white man. To date, we have hired many of our senior women leaders from outside the Company, but we are also developing a solid talent pipeline at all levels of our organization, and expanding this internal pipeline is a key focus going forward.
For example, we believe that our commercial teams are an important feeder pool for senior management. With this in mind, three of our five domestic commercial leaders are women, and one other is a person of color. And in our Finance organization, which has not been a stronghold for women traditionally, almost half the members of our leadership team are women, including our CFO and Vice Presidents of Treasury and Tax.
In hiring new employees, we don't set diversity targets or quotas. Instead, we strive to hire the most talented person for the job, and believe that over time, this will lead to an increasingly diverse workforce. In fact, we make wide use of customized assessment tools to eliminate bias in the hiring process. These tools are blind to gender and race, which enables us to focus on the potential for performance. And it's performance that drives compensation, which our analysis has shown is equitable between men and women.
We believe the key to achieving better financial performance is engaged leaders, and that every employee deserves a talented and engaged manager. So we have been conducting an annual engagement survey since 2015. More than 90% of employees regularly participate, reflecting the emphasis we place on it. Engagement levels increased substantially several years ago as we brought new leadership into the Company, then flattened out for a few years. This year, however, we were pleased to see our scores improve again, due to the heightened focus on our Purpose, Passion and Promise, as well as management training.
Another area in which we've made good progress is managing business risks. Here again, mitigating risk is a key element of our business strategy, not a standalone process. Each year, our General Counsel and Corporate Secretary lead our executive team in an exercise to identify the most serious risks facing the Company, which typically range from broad macroeconomic challenges to discrete competitive offerings. We analyze them by probability and potential magnitude, then develop mitigation strategies that are incorporated into the individual performance goals of our leaders.
In conclusion, at Hologic we believe that creating long-term shareholder value is critical, but so is how we create that value. By focusing on our unique Purpose, Passion and Promise, we strive to generate profitable, long-term growth that benefits not only our shareholders, but also our customers and patients around the globe. The integration of sustainability issues with our business strategy has helped us make good progress in several key areas, but we recognize that we can do much more. We hope that publication of this first sustainability report will catalyze that future progress. We look forward to your feedback and thank you for your interest.
-Steve MacMillan, Hologic Chairman and CEO