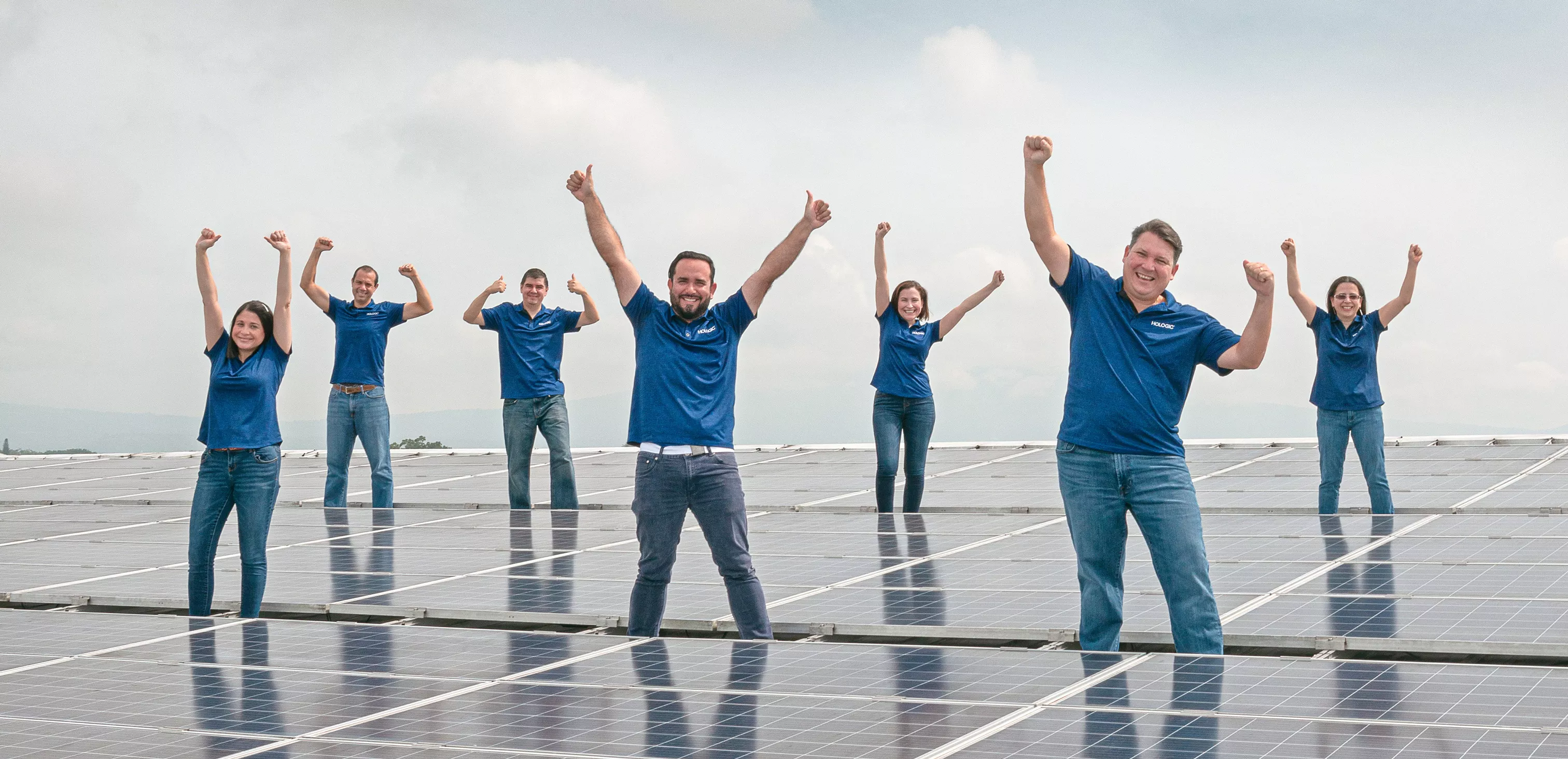 Hologic Costa Rica celebrates its commitment to solar power.
Hologic Costa Rica Climate Initiatives
Solar Panels and Battery System
Our Costa Rica team continues to lead Hologic forward with innovative solutions to help address climate change. Since 2018, when the Costa Rica site initially installed solar panels, the team has harnessed the power of solar electricity to deliver environmental benefits and financial savings. For example, these solar panels have reduced the facility's carbon footprint by 25.5 tons of CO2 per year; saving the equivalent of 8,000 trees, while also saving approximately $71,000 USD per year in electricity costs.
Given these outstanding benefits, in June of 2022, the Costa Rica team chose to expand its solar panel capacity. We expect the new panels to generate 220 kilowatts (kW) of power at maximum capacity, which represents more than 456 thousand kilowatt-hours (kWh) of power per year, equivalent to the average annual consumption of more than 200 houses in Costa Rica.
The facility is also implementing a battery system to save and store electricity generated during periods of low energy usage, with a goal to offset activity during periods of peak energy consumption.
These initiatives are part our global strategy to achieve a 40% reliance on self-generated renewable energy at Hologic-owned sites by 2030. 
Hologic's Costa Rica site achieved zero waste to landfill as part of a pilot project.
Hologic's Costa Rica site achieved zero waste to landfill as part of a pilot project.
In addition to expanding solar panel capacity and introducing an efficient battery system, Hologic Costa Rica's tremendous commitment to sustainability is evidenced by the team's water reclamation project. The team has created an ingenious solution to collect rainwater from the facility's roof and reuse it in the site's air conditioning system. With the project, Hologic Costa Rica expects to save more than 1,500 cubic meters of rainwater annually and save $4,700 USD in annual air conditioning costs.
By fiscal 2025, Hologic Costa Rica aims to achieve "zero waste" status as defined by the Zero Waste International Alliance. This initiative has led to multiple process improvements since the program was launched, including more sustainable packaging, more efficient material segregation and site meal preparation that is more data oriented. This is yet another example of the site's exceptional commitment to environmental stewardship.